Rationale and general objectives of the project:
Congenital anomalies (CAs) are a major cause of infant mortality, childhood morbidity and long-term disability.
Over 130,000 children born in Europe every year will have a CA.
There is not enough data in Europe on the survival, health and educational attainment of children with CAs.
Significance for Society:
A study of the health and educational outcomes of children with congenital anomalies during the first 10 years of their lives will allow parents, health care providers, health and educational authorities to plan and make informed decisions regarding treatment, services and education of these children. This will improve the care, support and quality of life of these children.
The project will facilitate the development of a more reciprocal relationship between families with children with congenital anomalies, health and social care professionals and researchers by conducting focus groups aimed at involving the public and professionals into the process of identifying and disseminating research priorities and results.
Objectives:
To establish a European network of standardized datasets containing information on the mortality, health, educational achievements and needs of children with congenital anomalies born from 1995-2014 up until 10 years of age.
To expand the knowledge on the survival, health, disease determinants and clinical course of children according to their specific anomaly.
To investigate socio-economic health inequalities.
To evaluate the costs of hospitalization during the first five years of life for children with a congenital anomaly.
To evaluate the accuracy of existing electronic healthcare databases and make recommendations on their use and on improving their accuracy.
To focus on four specific anomalies: children with surgery for CHD, spina bifida, cleft lip, and Down syndrome and the use of multinational surveys and focus groups to disseminate experience of parents of children with these congenital anomalies.
To engage with the relevant international/national/regional health authorities to ensure that relevant findings are implemented and translated into health policy.
To enable the established infrastructure and methodology for this unique research platform to be available for local research and future European wide analyses after the end of the project.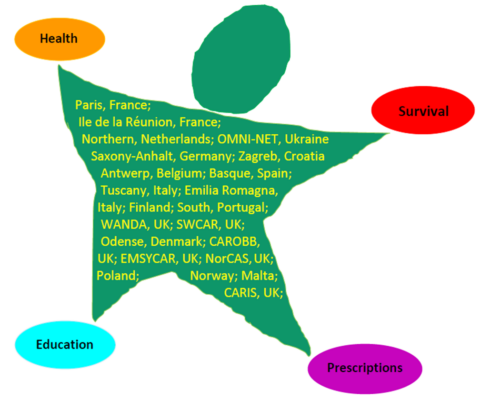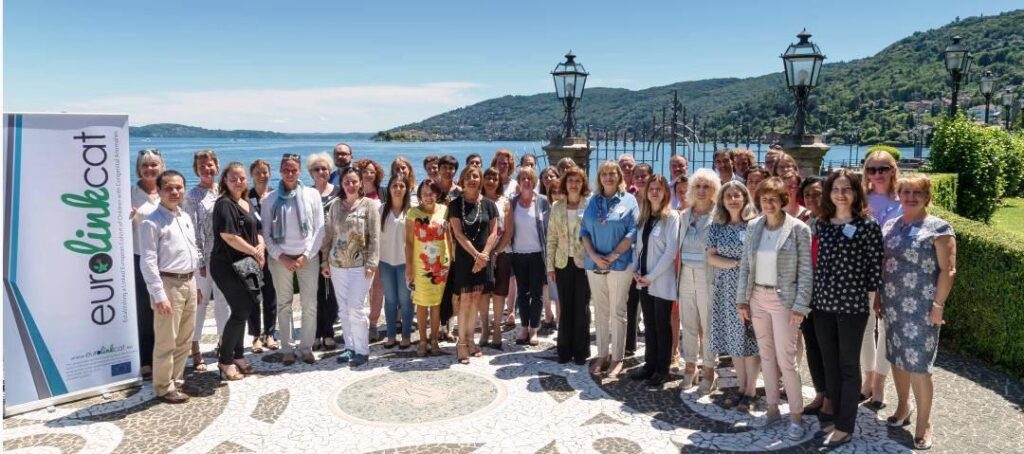 A group of representatives of registries involved in the implementation of the EUROlinkCAT project
Short Description of the Project
The EUROlinkCAT project has created a consortium of 22 registries participating in the EUROCAT population monitoring system in 14 European countries to link their congenital anomaly data of children born in 1995-2014 until 10 years of age to mortality, hospital discharge, prescription and education data. Focus groups and a multinational survey will involve families of children with congenital anomalies in prioritizing research and improving the dissemination of results.
Dissemination 
Various activities are underway to disseminate information about the project. An information brochure was created and translated into 5 languages. The website has a section for parents containing research summaries. In different countries, parents of children with CA are consulted through face-to-face focus groups to find out what they think. The multinational survey will be translated into native languages ​​and disseminated through social networks and contacts of the parental support group. The aim is to provide a broad geographical and demographic coverage to find out about the support and information parents received after diagnosing their child's CA.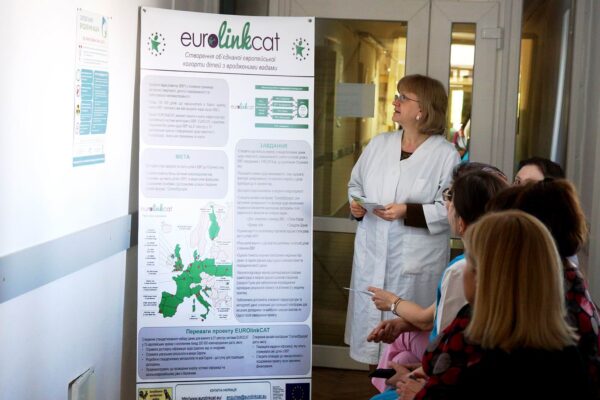 Presenting EUROlinkCAT project in Rivne, Ukraine
Further progress, expected results by the end of the project and potential outcomes (including socio-economic impact and general social outcomes of the project): 
The project will be the first to create a comprehensive set of independent standardized databases throughout Europe that contain consistently coded and verified information on morbidity, mortality and educational experience of children with CA under the age of 10. It will be an invaluable resource for research to improve survival and reduce morbidity of these children, and it will provide a platform for further data collection and collaboration across Europe.
The project will demonstrate that by creating the right infrastructure, protocols and guidelines for coding, data and experiences can be truly disseminated and analyzed across Europe, providing enough information on rare diseases to inform and optimize personalized care and treatment solutions for these children.
The proposed work will be the first to use the huge potential of standardized electronic medical records in Europe. This study will not only provide guidance on CA research, but it will also provide a template for the creation of other European cohorts, so that everyday electronic data can be used for both research and surveillance.
Address of the project website:
Publications:
Morris JK, Garne E, Loane M, Barisic I, Densem J, Latos-Bieleńska A, Neville A, Pierini A, Rankin J, Rissmann A, de Walle H, Tan J, Given JE, Claridge H; EUROlinkCAT Consortium. EUROlinkCAT protocol for a European population-based data linkage study investigating the survival, morbidity and education of children with congenital anomalies. BMJ Open. 2021 Jun 28;11(6):e047859. doi: 10.1136/bmjopen-2020-047859. PMID: 34183346; PMCID: PMC8240574.
Loane M, Given JE, Tan J, Reid A, Akhmedzhanova D, Astolfi G, Barišić I, Bertille N, Bonet LB, Carbonell CC, Carollo OM, Coi A, Densem J, Draper E, Garne E, Gatt M, Glinianaia SV, Heino A, Hond ED, Jordan S, Khoshnood B, Kiuru-Kuhlefelt S, Klungsøyr K, Lelong N, Lutke LR, Neville AJ, Ostapchuk L, Puccini A, Rissmann A, Santoro M, Scanlon I, Thys G, Tucker D, Urhoj SK, de Walle HEK, Wellesley D, Zurriaga O, Morris JK. Linking a European cohort of children born with congenital anomalies to vital statistics and mortality records: A EUROlinkCAT study. PLoS One. 2021 Aug 27;16(8):e0256535. doi: 10.1371/journal.pone.0256535. PMID: 34449798; PMCID: PMC8396745.