Our partner in Ukraine is the International Charitable Fund "OMNI-Net for Children", a non-for-profit organization founded in 2004. The following information in English is an extract from comprehensive information in Ukrainian found in the website of OMNI-Net Ukraine.
The main spheres of our partnership include:
Supporting birth defects (BD) monitoring based on international standards.
Early detection and finding risk factors of fetal alcohol spectrum disorders (FASD) in Ukraine.
Studying the influence of environmental and social factors on pre- and postnatal human development, namely the influence of micronutrients, trace elements, radionuclides, etc.
Development of information resources for medical students, interns and physicians in the fields of Medical Genetics, Teratology and Dysmorphology.
OMNI-Net supports birth defects monitoring based on international standards in three provinces of Ukraine (Volyn, Rivne and Khmelnytsky). As a result, the OMNI-Net Birth Defects Prevention Program is a member of the International Clearinghouse for Birth Defects Surveillance and Research (ICBDSR) and European Surveillance of Congenital Anomalies (EUROCAT). Data collection according to EUROCAT and ICBDSR methods allows controlling data completeness and quality, monitoring birth defects rates, as well as finding contrasts in their ratios. In addition, in collaboration with health care departments of the three provinces population neonatal registries based on international standards are being developed.
OMNI-Net also supports research to better understand alcohol influence on child development during the pregnancy, as well as to improve FASD diagnosis and prevention, and to develop strategies of early intervention and medical care.
One of the priorities of our activities is the study of the impact of environmental and social factors on the development and health of children. The Chornobyl catastrophe is one of the greatest disasters caused by men; it has affected and continues to affect the health, ecology and social well-being of many generations of the culturally and ethnically diverse population of Europe. Moreover, more and more people in the affected regions are under the influence of Chornobyl radiation from birth, because the third generation is being born, which is affected by ionizing radiation (IR) from conception. Particular interest to these studies is due to the fact that they were focused on the Rivne Polissia. Polissia is polluted by Chornobyl radiation and differs from the rest of the territory of the Rivne Province geologically, ecologically and demographically. It is very likely that such studies will find new important facts and help to better understand the whole range of causes leading to birth defects and affecting the health of people, as well as to develop and implement preventive measures. In Polissia, until proven otherwise, it is reasonable to assume that long-lasting accumulation of radionuclides by pregnant women has teratogenic, oncogenic, and mutagenic effects.
OMNI-Net collaborates with administrations and medical facilities, medical universities and public organizations to improveawareness of medical personnel and population regarding the possibilities of diagnosis, care and prevention of birth defects. This is facilitated by our websites – "I.B.I.S. – International Birth Defects Information System"; "Clinical Eye Openers (CEO)"; "Ukrainian Teratology Information System (UTIS); "Pandora Word Box", created in cooperation with our international and Ukrainian partners.
OMNI-Net is represented by OMNI-centers in Rivne, Lutsk, and Khmelnytsky cities. They are situated in provincial medical institutions (regional children's hospital, medical diagnostic center and perinatal center) and are integrated as a component into their structure. An OMNI-center is an informational resource center. It gives access to contemporary information printed and electronic about children's development, diagnosis, care and prevention of birth defects. It has facilities for telecommunications and educational activities. Our colleagues in Lviv, Uzhhorod, Chernivtsi, Kherson, Cherkasy, Kyiv promote the development of the OMNI-Net information resources.
OMNI-Net legal address: 36, 16 Lypnia St, Rivne 33028, Ukraine.
Phone/fax: (+38) 036-262-3447.
E-mail: omninetukr@gmail.com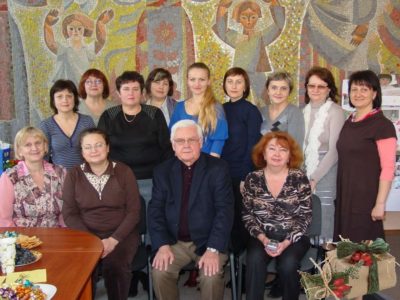 Meeting of OMNI-Net members (Medical Geneticists) in Khmelnytsky city, 2011