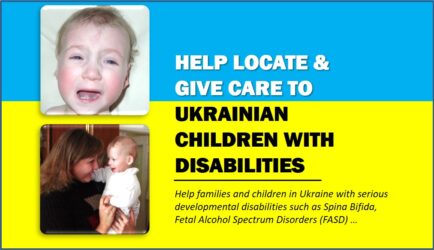 The ongoing Russian attack on Ukraine has killed many and disrupted the life of most children, in particular, those with DISABILITIES. We need HELP to HELP their families to HELP all of their children. Parents are the best caregivers.
Please HELP us to contact families with children with SPINA-BIFIDA, ALCOHOL SPECTRUM DISORDERS, and other disabilities.
Please HELP us to HELP them to TRAVEL so we can offer HEALTH SCREENING and HEALTHCARE and for our staff to become their OMBUDSMAN-WOMAN to secure healthcare from our own or alternative sources.
Most HEALTHCARE in Ukraine is free of charge except for some special aspects. However, SPECIAL CHILDREN have SPECIAL NEEDS, and we propose to fund them.
More … take a look at 5-minutes video: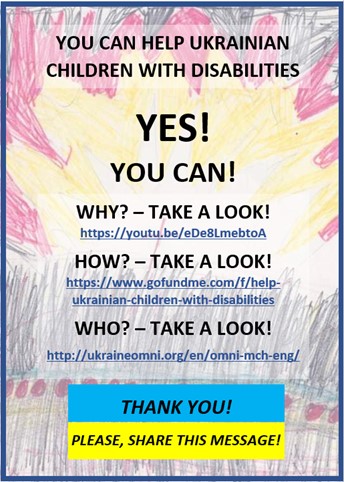 THANK YOU, AND PLEASE TELL OTHERS TO HELP.
Please be informed and inform others!
Please donate your time, skills and funding!
Please ask other to do likewise!