Обгрунтування та загальні цілі проекту:
Щороку в Європі народжується більше 130000 дітей з вродженими вадами розвитку (ВВР).
Вроджені вади – основна причина дитячої смертності, захворюваності та тривалої інвалідності.
У Європі бракує доказової інформації щодо виживання, здоров'я та освітніх досягнень дітей із ВВР.
Значення для суспільства:
Дослідження стану здоров'я та освіти дітей із ВВР протягом перших 10 років життя дозволить батькам, медичним працівникам, органам охорони здоров'я та освіті планувати та приймати обґрунтовані рішення щодо лікування, надання послуг та навчання для цих дітей. Це дозволить покращити догляд, підтримку та якість життя цих дітей.
Проект сприятиме розвитку взаємовідносин між сім'ями з дітьми з ВВР, медичними, соціальними працівниками та дослідниками шляхом проведення багатонаціонального опитування та створення фокус-груп, які мають на меті залучення громадськості та спеціалістів до встановлення та розповсюдження пріоритетів дослідження та його результатів.
Завдання:
Створити європейську мережу стандартизованих даних щодо смертності, захворюваності, освіти та потреб дітей з ВВР, народжених у 1995-2014 рр. до досягнення 10-річного віку.
Розширити знання щодо виживання, стану здоров'я, факторів захворюваності та клінічного перебігу у дітей відповідно до окремих груп ВВР.
Дослідити соціо-економічну та медичну нерівність.
Оцінити витрати на госпіталізацію протягом перших п'яти років життя дітей із ВВР.
Оцінити точність існуючих електронних баз даних охорони здоров'я та дати рекомендації щодо вдосконалення їх використання.
Зосередити увагу на 4 конкретних групах ВВР: операції на серці у дітей, розщілина хребта (spina bifida), розщілина губи, синдром Дауна та використання багатонаціонального опитування і фокус-груп для поширення досвіду батьків дітей з цими ВВР.
Залучити відповідні міжнародні/національні/локальні адміністрації в охороні здоров'я для забезпечення впровадження відповідних результатів проекту та втілення їх у медичну практику.
Забезпечити доступність інфраструктури та методології даної унікальної дослідницької платформи для місцевих дослідників та майбутніх ширших досліджень у Європі після завершення проекту.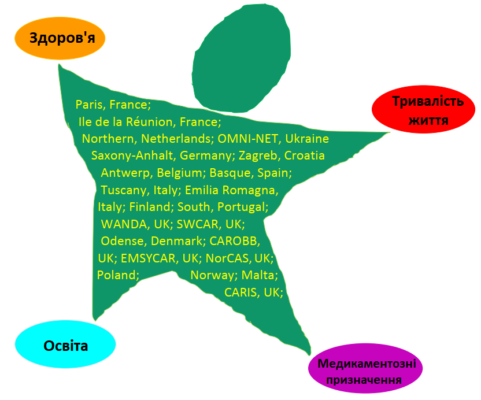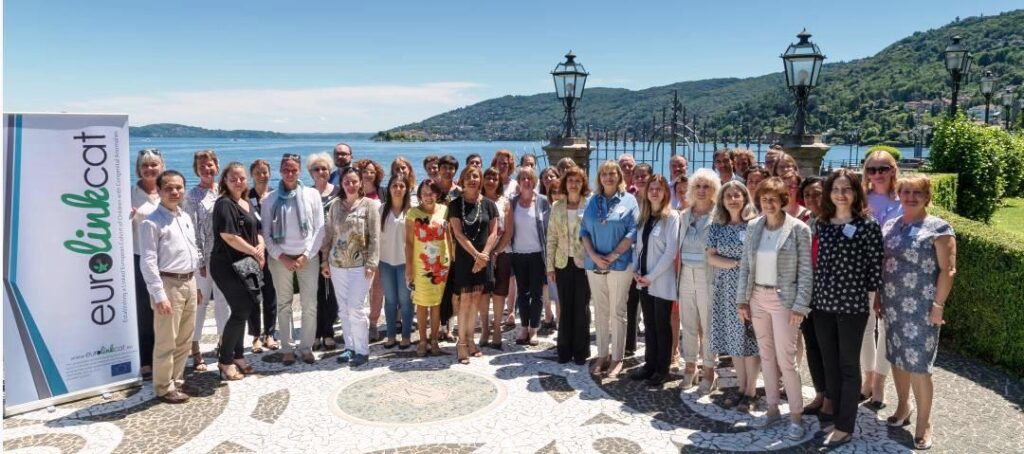 Група представників реєстрів, які беруть участь в реалізації проєкту EUROlinkCAT
Короткий опис проекту
Проект «ЄВРОлінкКАТ» (EUROlinkCAT) створив консорціум з 22 реєстрів-учасників популяційної системи моніторингу ВВР EUROCAT у 14 європейських країнах, які, де це можливо, об'єднують дані щодо дітей із ВВР, народжених у 1995-2014 роках до віку 10 років, із даними щодо смертності, госпіталізації, призначення ліків та освіти. Фокус-групи та багатонаціональне опитування залучатимуть сім'ї дітей з ВВР до визначення пріоритетів досліджень та покращення розповсюдження результатів.
Розповсюдження: 
Тривають різноманітні заходи з розповсюдження інформації щодо проекту. Створена інформаційна брошура, яка була перекладена на 5 мов. На веб-сайті створено розділ для батьків, де розміщені резюме досліджень. У різних країнах з батьками дітей із ВВР проводяться консультації за допомогою очних фокус-груп для з'ясування їхньої думки. Багатонаціональне опитування буде перекладено на рідні мови та розповсюджене за допомогою соціальних мереж та контактів групи підтримки батьків для забезпечення широкого географічного та демографічного охоплення, щоб дізнатись про підтримку та інформацію, яку батьки отримали після діагностики ВВР у своєї дитини.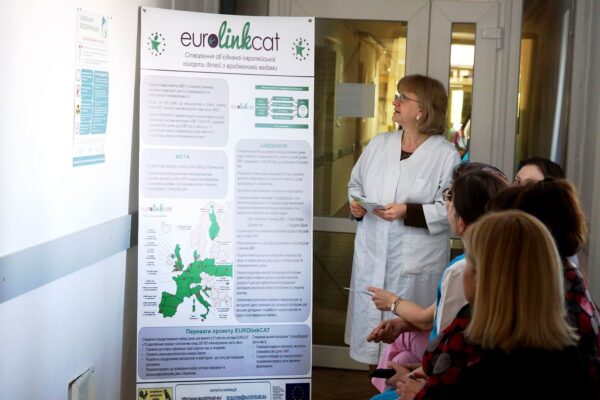 Знайомство з проєктом EUROlinkCAT в м. Рівне
Подальший прогрес, очікувані результати до кінця проекту та потенційні наслідки (включаючи соціально-економічний вплив та загальні суспільні наслідки проекту на сьогодні): 
Проект буде першим, який створить комплексний набір незалежних стандартизованих баз даних, що містять послідовно закодовану та перевірену інформацію про захворюваність, смертність та освітній досвід дітей із ВВР до 10-річного віку у всій Європі. Це буде неоціненним ресурсом для проведення досліджень, спрямованих на покращення виживання та рівня захворюваності цих дітей, а також створить платформу для подальшого збору даних та співпраці по всій Європі.
Проект продемонструє, що шляхом створення правильної інфраструктури, протоколів та вказівок щодо кодування, дані та досвід можуть бути справді поширені та проаналізовані по всій Європі, отримуючи достатньо інформації про часто рідкісні захворювання, щоб інформувати та оптимізувати персоналізовані рішення щодо догляду та лікування для цих дітей.
Запропонована робота буде першою щодо використання величезного потенціалу стандартизованих електронних медичних записів у Європі. Це дослідження не лише надасть настанови з питань досліджень ВВР, але також забезпечить шаблон для створення інших європейських когорт, таким чином, повсякденні електронні дані зможуть використовуватися як для досліджень, так і для спостереження. 
Адреса загальнодоступного вебсайту проекту:
Публікації:
Morris JK, Garne E, Loane M, Barisic I, Densem J, Latos-Bieleńska A, Neville A, Pierini A, Rankin J, Rissmann A, de Walle H, Tan J, Given JE, Claridge H; EUROlinkCAT Consortium. EUROlinkCAT protocol for a European population-based data linkage study investigating the survival, morbidity and education of children with congenital anomalies. BMJ Open. 2021 Jun 28;11(6):e047859. doi: 10.1136/bmjopen-2020-047859. PMID: 34183346; PMCID: PMC8240574.
Loane M, Given JE, Tan J, Reid A, Akhmedzhanova D, Astolfi G, Barišić I, Bertille N, Bonet LB, Carbonell CC, Carollo OM, Coi A, Densem J, Draper E, Garne E, Gatt M, Glinianaia SV, Heino A, Hond ED, Jordan S, Khoshnood B, Kiuru-Kuhlefelt S, Klungsøyr K, Lelong N, Lutke LR, Neville AJ, Ostapchuk L, Puccini A, Rissmann A, Santoro M, Scanlon I, Thys G, Tucker D, Urhoj SK, de Walle HEK, Wellesley D, Zurriaga O, Morris JK. Linking a European cohort of children born with congenital anomalies to vital statistics and mortality records: A EUROlinkCAT study. PLoS One. 2021 Aug 27;16(8):e0256535. doi: 10.1371/journal.pone.0256535. PMID: 34449798; PMCID: PMC8396745.