On November 30, 2017, a meeting of OMNI-Net members Prof. Wladimir Wertelecki, Lyubov Yevtushok, Tetyana Vihovska, Serhiy Lapchenko, and Diana Akhmedzhanova with neonatologists and staff of the Department of Neonatology of the Shupyk National Medical Academy of Postgraduate Education took place.
During the meeting, Prof. W. Wertelecki presented the OMNI-Net information resources: sites Clinical Eye Openers (CEO) – the site teaches medical professionals, students and interns to notice various dysmorphic signs that suggest normal or compromised child development; Pandora Word Box – displays various dysmorphic features in works of art; Ukrainian Teratology Information System (UTIS) – information on the influence of drugs and factors of the external and internal environment (teratogenic factors) on fetus, pregnant woman and newborn on breastfeeding; International Birth Defects Information System (I.B.I.S.) – Information on congenital malformations and developmental disorders.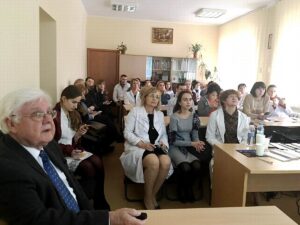 Also, there was a meaningful discussion of OMNI-Net leaders with the Head of the Department Prof. Yelyzaveta Shunko (Doctor of Medical Sciences, Corresponding Member of the National Academy of Medical Sciences of Ukraine, Honored Worker of Science and Technology of Ukraine).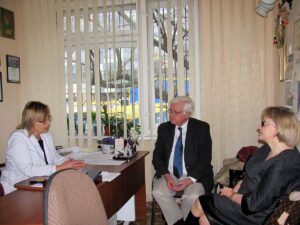 From left to right: Y. Shunko, W. Wertelecki, L. Yevtushok