On April 11, 2017, a scientific-practical conference with international participation "Fetal Alcohol Syndrome (FAS): diagnosis, neuro-behavioral aspects, and correction programs" was held at the Ukrainian Catholic University (Lviv, Ukraine). OMNI-Net was one of the co-organizers of this conference. Among other co-organizers there were Lviv City Council, Institute of Mental Health of the Ukrainian Catholic University, D. Halytsky Lviv National Medical University, and "I'm not alone" Charitable Foundation.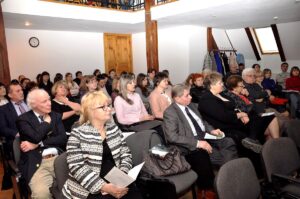 The conference participants
Welcome speeches were made by Oksana Rubay (Lviv mayor counselor), Oleh Romanchuk (Director of the Institute of Mental Health), Wladimir Wertelecki (Professor, Director of Children's Development and Birth Defects Programs and OMNI-Net for Children Head of the Board, foreign member of the National Academy of Sciences of Ukraine, USA), Christina Chambers (Professor, Department of Dysmorphology and Teratology, Division of Pediatrics, Department of Epidemiology and Global Health, Department of Family Medicine and Public Health, School of Pharmacy and Pharmaceutical Sciences of the University of California in San Diego, USA), Andriy Bazylevych (Prorector for medical and preventive work of the Lviv National Medical University), Valentyna Chopiak (Professor, Head of the Department of Clinical Immunology and Allergology of the Lviv National Medical University), Yaroslav Hoshovsky (Professor, Head of the Department of Age and Pedagogical Psychology of the East European National University).
The conference program included the following reports and presentations:
"Fetal Alcohol Spectrum Disorders: Actuality of the Problem in Ukraine" – Natalya Zymak-Zakutnya (Head of Medical-Genetic Consultation of the Khmelnytsky City Perinatal Center).
"Diagnosis of the Fetal Alcohol Syndrome" – Kenneth Jones (Honorary Professor of Pediatrics, Head of the Department of Dysmorphology and Teratology, Department of Pediatrics at the University of California, San Diego, USA).
"Behavioral Dysregulation in Children with FASD: The Role of Damage to the Prefrontal Cortex" – Julie Kable (Associate Professor, Department of Psychiatry and Behavioral Sciences, School of Medicine, University of Emory, Atlanta, USA).
"Modern Aspects of Educational and Social Support of Children with Developmental Disabilities" – Tetyana Vihovska (Deputy Chief Physician of the Volyn Regional Specialized Children's Home).
"A Child for Life" video (produced by the National Organisation for Foetal Alcohol Syndrome United Kingdom (NOFAS UK), translated and kindly provided by the Ukraine Works Ltd, director, Mrs. Anne Linden).
At the end of the conference, a round table was held to discuss issues related to the Fetal Alcohol Syndrome and its prevention in Ukraine.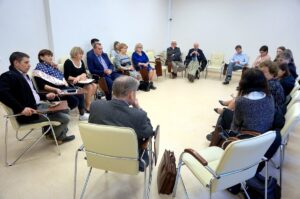 The round table discussions